Over a decade before Rethink Breast Cancer & MTV News Canada launched (to public outcry; video), and the Women Rock! Girls & Guitars breast cancer benefit too, MTV had the High Priority campaign against breast cancer.  (You can be cynical, and view MTV's interest as self-interest — be it sexist preservation of the sweater-puppets which jiggled in videos, or a way to combat judgement that rock videos and music television would be the end of civilization, but whatever MTV's motives, they're active in PSAs.) The campaign began in 1984, but my thrift store find is the 1987 High Priority album.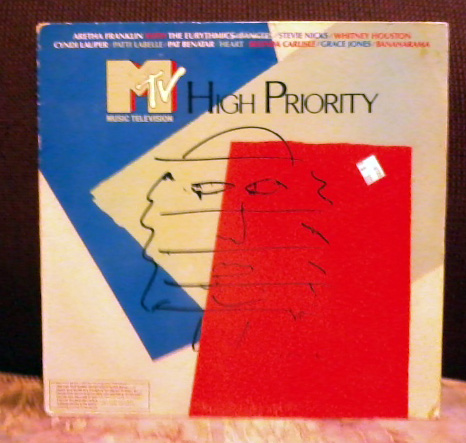 (I say "find" because up until spotting for $1 at a thrift shop I was ignorant of this MTV effort. In my defense, we didn't have cable; our family only managed to get a color TV in the late 70s or early 80s — but we were the first to have a microwave oven. My parents only got a video player after I moved out; and they just got cable two or three years ago. So that tells you something about our family values. And why, even if we had cable, I would have likely opted to read anyway instead.)
The profits from this album went to the AMC Cancer Research Center. The album cover featured unfinished, yet signed, art by Andy Warhol on the front; monthly self breast exam info and other cancer prevention tips on the back; and ten songs from leading female performing artists of the time:
Side One
Sisters Are Doin' It For Themselves; Aretha Franklin with The Eurythmics
Manic Monday; Bangles
I Can't Wait; Stevie Nicks
You Give Good Love; Whitney Houston
Time After Time; Cyndi Lauper
Side Two
Oh People; Patti Labelle
Le Bel Age; Pat Benatar
Nothing At All; Heart
I Feel The Magic; Belinda Carlisle
Slave To The Rhythm; Grace Jones
More Than Physical; Bananarama
While the High Priority Campaign holds no "remember when" significance, the songs and artists do.  So I'm lovin' listening to it. Grrl power!!
Want it? Infrequently posted on eBay
; less expensive at Amazon
.