Last week I watched The Republican Debate at the Reagan Library. I found myself astounded by the fact that these people with limited intellectual reasoning, if not limited intellectual functioning, were in positions to actually be running for President of the United States of America. I've more to say on that subject (expect another post soon), but for now, I'm just going to focus on the one subject in which I found myself even more shocked: the one time when I found myself agreeing with some of the things the potential candidates said.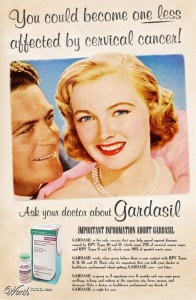 The subject was mandatory use of the Gardasil HPV vaccine; something I've long considered dangerous — especially as it's equated with crony capitalism. Now, to be clear, I'm not one of those who thinks that preventing a disease which is linked to sexual behavior is akin to giving young women (or anyone) a Go Out & Screw card; you should know by now I'm not that kind of silly. But I've been concerned for a long time about the dangers of Gardasil, a drug pushed through quickly and forced upon young women and their families who are kept ignorant of the dangers — including deaths — of the vaccine. However, as I was soon to be traveling, I decided I didn't have time to write about this subject again. Until…
Not long after I arrived home last night, my father in law called me. A reporter, Kristin Helgeson from Valley News Live, had left a message for him, asking if he was related to a Deanna Dahlsad. Yes, he is; yes, I called the phone number Helgeson left, and left her a message. But it wasn't until this morning that the reporter and I connected.
Seems Michelle Bachmann stepped in it again, this time taking one individual and unverified comment and making the claim that "Gardasil led to mental retardation," and Helgeson, having found my coverage of Gardasil at my other blog, wanted a comment from me. However, now that it was the next day, the story is "over." While Helgeson was interested in pursuing the information I had, her boss, News Director Griff Potter, felt new and more accurate information wasn't warranted — at least not enough to continue the story on air. Instead, Potter feels that I should just add a comment to the news story on their website.
It's here that my story turns, for the moment, from one of the dangers the Gardasil vaccine, to that of the problems of The Media."
In Valley News Live's coverage of the story, they reported:
On their website, the Center for Disease Control (CDC) has a review page for this vaccine. None of the serious side effects have been linked to the vaccine and there have been no reports of mental disability. In fact, the most serious side effect they found was fainting. They now ask patients to sit down for 15 minutes after they get vaccinated.
This may be true — but it's clearly not the whole story! As I've uncovered, there are deaths linked to Gardasil — in the US and India.  While Valley News Live may not find their omission "retraction worthy," surely they should present the other information that the public ought to be informed about.  And they should do so in the same format as their original coverage.  One hopes that the folks at Valley News Live know that their television viewers are not necessarily those who will turn to the Internet and look for updates on earlier stories (or trust the comments left by some "kook" like me); if there was something important to add to the story, they'd show it on the news right?  Wrong.
I want to be clear here and state that Helgeson wanted/wants to proceed with the story.  And I did call Mr. Potter to voice my concerns too; as of this writing, he has not returned my call.  I hope he is out to lunch in the literal sense, not metaphorically, and that I will hear from him — or from Helgeson, saying Potter has reconsidered.  But until then, this whole thing just makes me so angry.
How long will the arbitrators of news continue to dismiss the issues in this story?  How long will they continue to discount women — not just as part of their audience, but in general?  For cutting or ignoring the facts from stories like this only perpetuates the problems of poor ethics in everything from medicine and politics.
For more, see my other related posts, at varying sites:
Is Medicine At Odds With Women's Health?
Controlling Parts Is Controlling The Sum Of Its Parts
What If Everything You Knew About The Corset Was Wrong?
And do see my Gardasil coverage.