Before there was today's code for handkerchiefs, there were other fashion accessories used in courtship for communicating and flirting. There was the fan, of course, and, according to this article found in the Bismarck Tribune (March 15, 1879), gloves were used too.
The Glove Language

The English girls have improved upon the language opf the fan and the handkerchief by devising a very copious vocabulary of the gloves, which for the benefit of American women we beg to "pirate"from an English contemporary. It runs thus:

Drop a glove — Yes
Crumple a glove in the right hand — No.
Half unglove the left hand — Indifference.
Tap the left shoulder with the glove — Follow me.
Tap the chin with the glove — I love you no longer.
Turn the gloves inside out — I hate you.
Fold the gloves neatly — I should like to be with you.
Put on the left glove, leaving the thumb uncovered — Do you love me?
Drop both gloves — I love you.
Twirl the gloves round the fingers — Be careful: we are watched.
Slap the back of the hand with the gloves — I am vexed.
Take a glove in each hand and separate the hands — I am furious.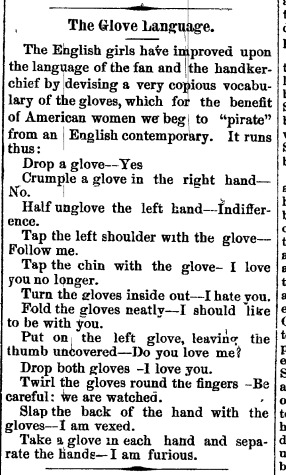 This also reminds me of the supposed code for rubber, gel or silicone bracelets; just because it was reported, it doesn't make it true.