If you thought the matter of who makes art exploring the issue of abortion difficult, perhaps the following antique erotic artworks will be too upsetting. That's your warning to leave.
For these works go beyond the issue of basic nudity in art, beyond even the matter of erotic art, to  explore sexuality along with religion and what appears to be the opulence of wealth.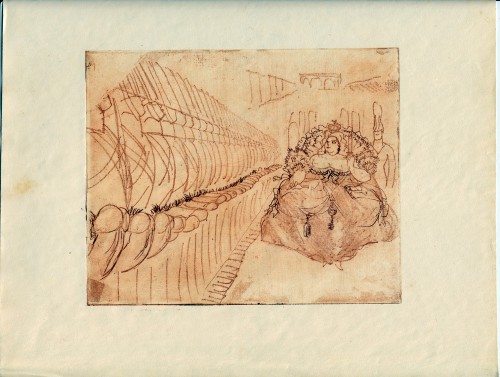 I'm no expert, in art or in the French language, but I'm rather certain these works by Marcel Vertes (Le Pays a Mon Gout aka The Country to Your Taste, 12 original lithograph prints, circa 1921) and Martin van Maele (De Sceleribus et Criminibus , 11 erotic etchings circa 1908) are not theoretical works expressing confusion or commentary on the corruption of religion or other issues of decadence, but rather are fantasies exploiting such distorted delights — i.e. they are 100% erotica, illustrated meant to arouse.
But does that make them any less interesting in terms of art? Does their age make them more credible as art? Does the status of the artists, one an Oscar winner the other an illustrator for the works of H. G. Wells, improve your opinion? Is it art, erotica, or just plain old porn?
…And if you say "porn" or "old porn," doesn't that mean it still moves you?
Which would rather give points for "timeless" or "classic" to the works as well as kudos to the artists themselves, wouldn't it?