Look at this sketch closely…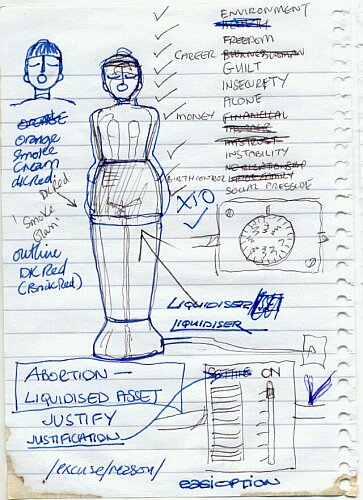 My first thought was that this was the agonizingly personal doodles and notations of a woman contemplating abortion. There are lists of check-marked points, like pros and cons, with one side only listing "career, "money," and "birth control," while the other lists "guilt," "alone," "instability," "social pressure," and "environment."
Frankly, looking at it made me more than a little uncomfortable — not only because I felt like I was reading a page in someone's private diary, but because I've had my own experiences with such thoughts. I wanted to reach out, somehow…
But this work is not the intimate struggles of a lone woman.
It's the beginnings of a work of art.
Following up on the only credits appearing on the Tumblr page where I found the inked sketchings and notes, I discovered that this sketch is the work of Julian Murphy, self-proclaimed maker of "Tantric Pop Art." And, according to this interview, this is indeed a page from the artist's notebook, though no final work is noted. Nor can I identify which work it might have led to. This is problematic for me as seeing the finished work may make me feel a lot differently than I do now.
Few decision are as personal and female — and attacked — as an unplanned, unwanted, or unhealthy pregnancy. Knowing that a man created this?! It's quite difficult to bear.
Reading the words "excuse/reason"…
seeing an arrow with the words "liquidiser" pointing below the waist on a female figure…
the rectangle drawn around the words "Abortion — Liquidised Asset" in all caps…
some sort of gauges apparently measuring "justification"…
the whole exercise ending in "easioption".
Easy option?! *snort*
Anger bubbles. Foam flecks my lips.
Especially when this male artist brings you something as unoriginal as a nudie clothes hanger.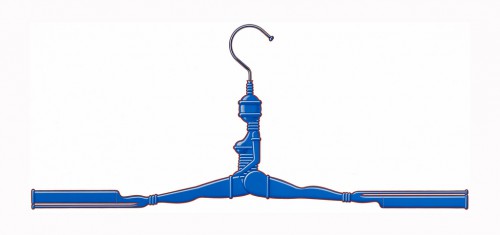 Even if he's also done a male version.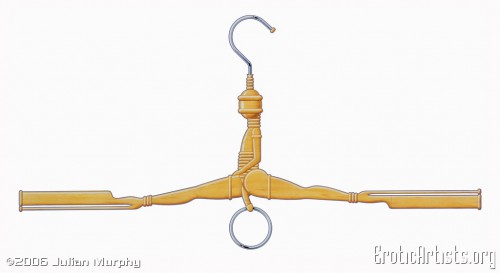 Even if some of his works are provocative — in a good way. At least without seeing his notes, reading the words used in his process, there's the possibility of exploration, of fantasy. But this is the male artist who brings us the blindfolded submissive woman as a vacuum cleaner — what on earth could his intentions of a liquidizing female abortion thing be? Some sort of blender?!
I believe in the right of artists to explore issues; I'm no censor. But when a man uses such painfully loaded language to work on his concept — this concept, I really need to see the final work, to hear the artist discuss his thoughts. Maybe he is as woefully unaware of the language he is using as he is ignorant to the issues women face.
Abortions are not "easy." Hell, they aren't even options in many places — regardless of laws stating the right to such an option. And Murphy's language, his "reasoning," just scares the hell out of me.