It was pretty obvious to me when Amazon, Google, and eBay invested in the fashion sector, that fashion was going to surpass the e-commerce success of books, music, and videos.
Data, analysis and insights publisher on digital marketing, media and commerceeMarketer is predicting that the fashion apparel and accessories sector is expected to grow 20% to $40.9 billion this year (up from $34.2 billion in 2011), while books, music, and video are only expected to grow by 18% this year (to $20.4 billion). The figures are for the US: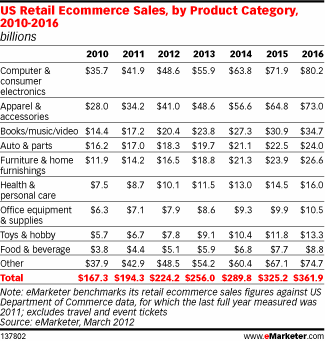 If you'd like to make money (or even more money) via fashion affiliate programs, get my white paper.