Given all the ruckus about breast feeding in public (something which relegated me to the isolation of many a stuffy room, even during family gatherings), I consider the right to bare breasts right up there with the right to bear arms. So meet crusader and an activist Moira Johnston, aka The East Village Topless Lady, who is working to spread the all-important message that it is legal for women to be topless — at least in New York City, since 1992.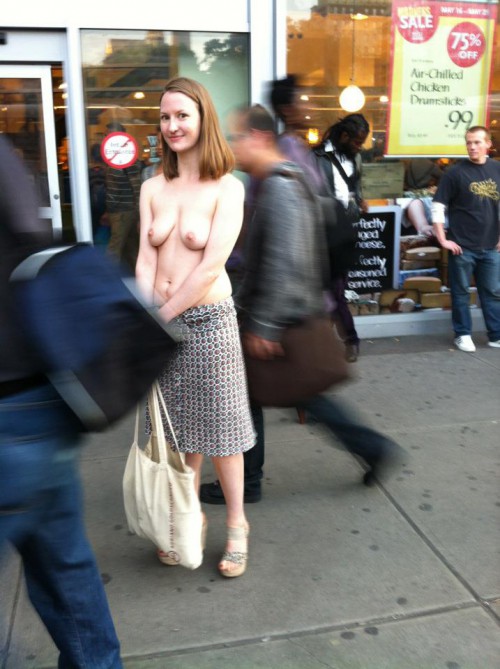 Johnston is interviewed here, at the Gothamist, complete with NWS video:
Among other things, the 29-year-old discusses being harassed by middle-aged men and debating going topless with passersby (including one man who says topless women are "going against God's law"). Johnston also tells how she was detained by cops for over an hour this week (because she was topless near the children's park in the square), then released when they realized they couldn't keep her. The arresting officer told her "it could be considered endangering the children…I asked his personal opinion, and he said he didn't think it was endangering the children."
And then there are the bare breasted broads abroad, taking to the streets, using their bare breasts to sell more than merchandise or sex itself. The women of Ukrainian based FEMEN use it to sell social change. They demonstrate for everything from women's rights and the economy to terrorism and corruption, including against politicians like Putin.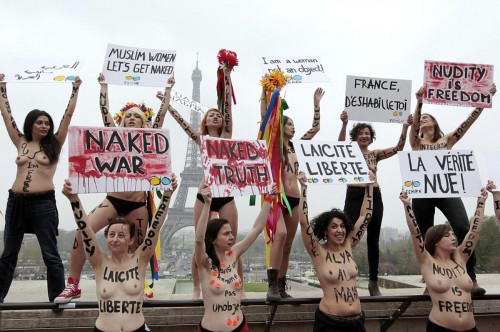 FEMEN was founded by three young women living in Khmelnytskyi, Oksana Shachko, Anna Hutsol, and Sasha Shevchenko, primarily university students whose parents hoped that they would get married early. From an interview with Shachko:
There were hardly any jobs to be had, and the men drank. The girls, for their part, spent long evenings discussing philosophy, Marxism and the situation of women in post-Soviet society. They decided that instead of getting married, they would bring about change.

There were only three of them at first, but now the movement, whose ranks include students, journalists and economists, has spread throughout Ukraine and includes more than 300 women. Calling themselves "Femen," they have started a movement that has also caught hold among women in Tunisia and the United States. It's a movement that even encourages experienced women's rights activists to undress.
Not surprisingly, FEMEN activists appear all over Europe, including in the Vatican City.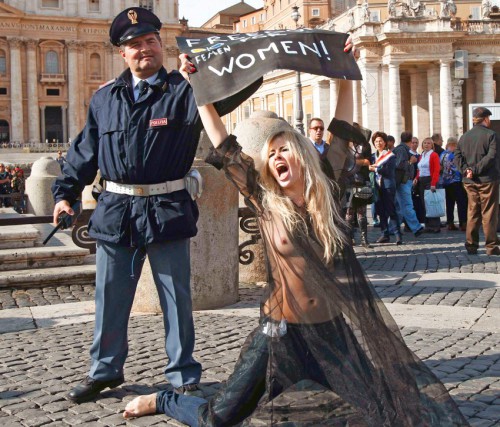 You can keep up with the FEMEN rights movement at their blog and curated stories in the news here.
Should you wish to take to the streets to defend your right to bare breasts, or to bare your breasts for social change, you'd better know the laws. [It's currently illegal for women to be topless anywhere in the US, save for breastfeeding (which still raises hell), except for New York.] Not that imprisonment is always seen as a barrier to activists of social change; but you should know what you're up against and make your educated decisions.
PS I refuse to mark this post NWS or NSFW because I don't fear bare breasts or even nipples.