Today, in honor of the Olympics, in honor of the strong, skilled, and powerful US female gymnastic team, Proctor & Gamble's official beauty Twitter account tweeted:
What's your favorite part of the "gymnast look"? The slicked-back bun, beautiful bold lips or shimmering skin? #PGOlympics #PGBeauty
In return I tweeted:
@PGBeauty Really? Beauty looks based on female gymnasts? Are you going to do this sort of thing to male athletes?
No one responded. Not P&G; not any of my tweoples.
I guess I should just be glad I wasn't banned from Twitter for knocking a paying advertiser. But in actuality I'm peeved that no one else seems upset by this… There were 13 retweets, 11 favs, and one comment — not mine (mine is conspicuously absent).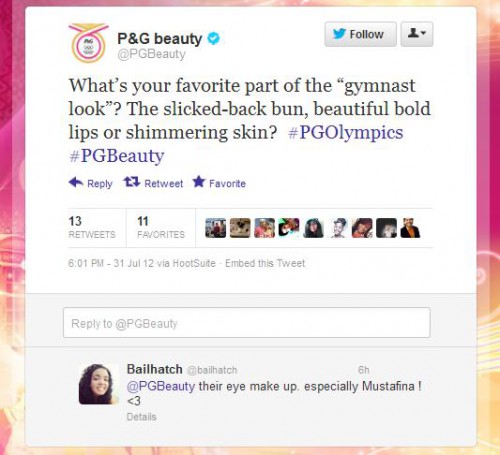 So000 disappointing.
In Older Athletes Earning Gold For Endurance In The Olympics, Patricia Nell Warren writes:
Fortunately for Olympic athletes, they don't have to rely on their looks to get to the podium, or even get to the Games. However gorgeous their displayed bodies might grow because of intensive conditioning — if they are swimmers or gymnasts or runners — it's what they can DO with those bodies that counts.

Then there are those, like the fencers and archers and equestrians, who may or may not have a pretty face or gorgeous bods, but who deliver the goods while buttoned up to the chin in traditional gear, even gloves and helmets or top hats, with only their faces visible.
While Warren's article was about what the LGBT community might learn from events such as the Olympics, it's clear that "we heteros" have a long way to go ourselves. Some of us are forgetting to honor and admire the dedication, skill, and prowess of our female athletes when there's beauty standards and products to sell.
Ain't that a kick in the groin.