Hey Alessia,

With all this talk about people staying home in this economy, do you have any tips for meeting new people to date?

I'm thinking going door-to-door is a bad idea ;)

Samantha
You're right, Samantha, going door-to-door like a Girl Scout with your cookies is not recommended.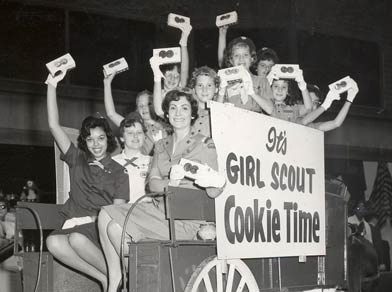 While I think the hype about the economy keeping people home is slightly exaggerated (people still need to go to work, buy food, and exit their homes; we are not living in bomb shelters), I think now's as good a time as any to review some tips on where to meet guys & girls to date.
This list of suggestions is primarily based on suggestions I give to self-described "shy" &/or "bookish" people who say their "lack of social butterfly status" makes it more difficult to find potential dates, but if you believe that the soft economy makes for hard times finding guys (or girls), then here's a list of five tips for making it easier to find someone:
1. If you're old like me, you probably remember back in the 90′s how so many dating advisers suggested you meet a potential mate at the grocery store. I personally found this advice rather silly; treating the frozen foods isle or butcher section like a meet (or meat) market is asking for lots of mistakes to be made. Since I cannot cook, the idea of the humiliation of hitting on husbands shopping off the wifey's grocery list & gay guys made me laugh & cringe… But I also think it is impractical because hanging out in a grocery store is not only creepy but a huge time investment — spent on your feet yet! However…
If you want a mate who can & will do the cooking, hang out at the local farmer's market. Unlike grocery stores which are open long hours (some even 24/7), farmers' markets are typically run for a few hours on weekend mornings, making your cruising times more realistic. Because they are "events," not "just shopping," you'll find most people are strolling along, willing to talk, and more relaxed and open in general than when they are in a rush running errands. Not only are you likely to identify (especially over time with multiple visits) single men & have more opportunity to have conversations, but buying fresh foods grown locally will improve your diet, save you money, and put money back into your local economy too.
2. If you're convinced that folks in your town are holing up at home more to save money, then keep your eyes open when making your own home entertainment arrangements. Bookstores, video rental places, gardening centers, stores that sell games, music retailers, hobby supply centers, sporting good stores, etc. — all places you probably are going anyway, so just keep your eyes open for other regular shoppers & start a conversation.
If you don't have any interests — get some. Seriously; life's too short to spend it laying like a vegetable on your couch, whether you are doing it alone or as a couple.
3. People are still visiting cheap places. Check your local community calender listings for free or inexpensive events in your interest area. The holiday season is an especially good time for parties, charity fundraisers, etc.; summer offers food & music festivals, flea markets, state & local fairs, etc. Make the most of community resources, like libraries, parks, museums, art galleries, historical societies, zoos, colleges & universities, which often have lecture series, book readings, plays, concerts, & other special events.
Many of these places also offer membership options which include free or discounted admission rates for members — which makes frequent visits affordable.
Those old theaters in the old downtown areas often have free or cheap film retrospectives & festivals. Even malls have those weekend events, like fashion shows, craft fairs, art shows, antique sales. There are lots of things; look for them and attend them.
4. Support local community organizations by volunteering. Some of these organizations can be found in your local papers & online, of course; but don't overlook calls to the United Way etc. for help matching you with an organization &/or program that needs your skills & help to serve an issue you believe in.
You're sure to find other singles who are caring and committed to the same concerns & issues that you are — or make friends who just happen to know someone who is single and looking for a girl like you…
You'll be able to pay it forward & help people while you wait for Mr. or Ms. right.
5. As always, my number one suggestion for meeting new people is to hang out with family & friends, meet their friends and accept set-ups. While we may groan internally at such things, ignore such things and the plethora of negative film & television portrayals of such dates. Studies indicate that we really do find the best relationship matches when we are set up by family & friends. This is because we & our set-up (or blind date) will typically have shared values, similar socio-economic backgrounds, and common interests — as well as the support of family & friends. All these things increase compatibility & long term relationship success — things you can't afford to ignore in any economy.
So get on the bandwagon, put on a sunny face and face the day. Who knows you you may find along the way?
Image credits: Channel One