The following fascinating artworks are the creation of artist Tamar Stone, who uses art to "tell the stories of women's lives that have been constricted by their various situations throughout history."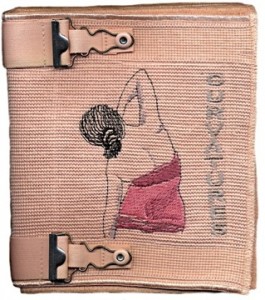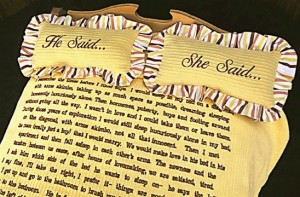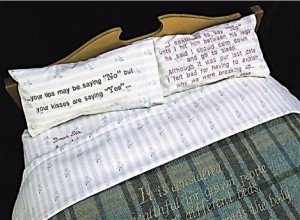 Tamar's work is inspired by her own experiences, including spending her teen years a la Lisa Kudrow in Romy and Michele's High School Reunion wearing a back brace to correct Scoliosis, which not only amplified the usual adolescent feelings of isolation and body insecurities but developed in Tamar an increased sensitivity to "correction" and the need to fit in. The result is artwork which explores women's lives. And yours truly getting a crush on the artist.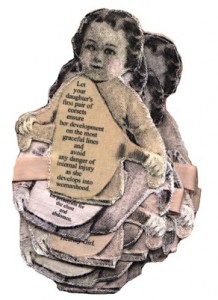 In her corset books, not only the moments in which issues of appearance, self esteem and assimilation captured — but the methods and mechanics by which physical restrictions, voluntarily or involuntarily, have literally shaped women are examined.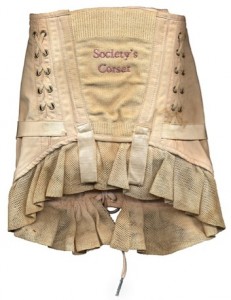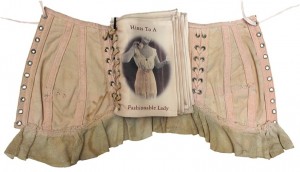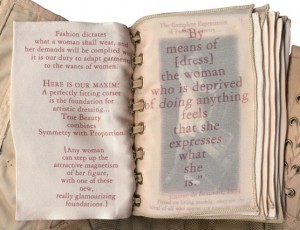 In her bed books, the intimate and intricate institution of beds throughout history are scrutinized, from the primary female domestic associations to the primal sexual and biological connotations, with readers being asked to unmake miniature beds in order to see what lies beneath the neat covers — and then remake the rumpled beds, neatly hiding the secrets again.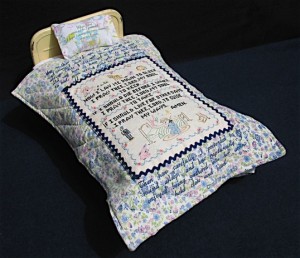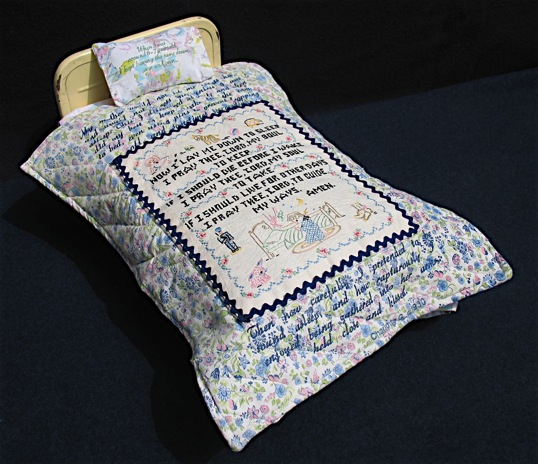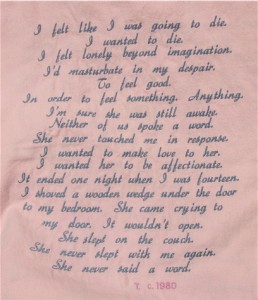 Charmed and fascinated, I gushingly asked Tamar for an interview — I figured she'd understand my elation. She did.
…Well, at least she agreed to the interview (who knows if she really understands my girlie crush?)
Tamar, I'm in lurve, deeply and seriously, with the corset and bed books. Do you sell them? Keep them? Are they in museums or what?
Thanks so much for loving the artists books! My dealer, Priscilla Juvelis, sells them for me — or at least tries to. In this economy, the few people who have been collecting them haven't and won't buy anything this year, and the universities that have collected my work in the past are also not spending any money. They cost somewhere between $5,000 – $6,000 each, being that they are one of a kind etc.
At this point, it takes a few years to make each book (corset and bed) from doing all the research/reading of historical text, and then putting it together into a "story line." I then make a paper dummy of the corset books to figure out how it will all look (that's right, I put those corsets on a copier machine and glue stick and scotch tape them together). Somehow "seeing" them in this manner and working with my hands helps me think about how/what I want to say — before I get on a computer to start creating Photoshop files etc.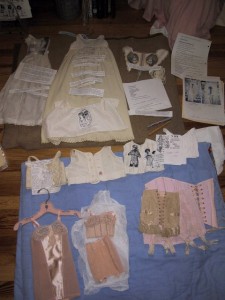 I work with a person who does machine embroidery and who is much better sewer than I am. (I figure, if I expect someone to pay for the work — it should be the best technical work that I can afford and that I expect my projects to look like. I get kind of picky in that way, and my sewing skills are pretty spastic actually, so I'm happy to employ a professional.)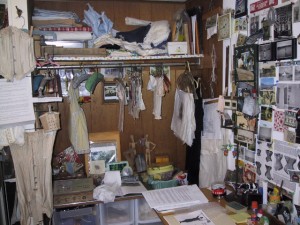 Anyway, because it takes so long for each piece, by the time they are finished I really just want to get them out of my hands and into Priscilla's so she can try to sell them. I don't actually make a lot of money off of the projects, just enough to turn it around into a new project. Which is why I have to keep my day job of coordinating business meetings, although as a freelancer, this year has been terrible and the reality is that I may have to take some sort of full time job to start paying the bills — and that would really cut back on the art time… But such is life.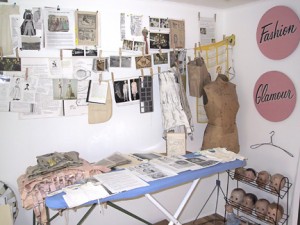 Did you have any formal training?
I went to art school, but I majored in photography and minored in graphic design. I just took one book making class at Pratt Institute in the mid-80's, but it taught me that I was not cut out for any kind of "formal" book making. I didn't have the patience to even use a bone folder! My final project for that class was a plastic book I sewed together with things stuffed inside the pages to make overlapping ideas… Even back then…
When did you begin creating your art books? Who &/or what inspired you to begin — and what was your first piece?
Around the mid- 1990's I started my first "limb" book, your/my… insecurities are my limbs, while working at a job I really didn't like, but it had a great copy machine and I decided I should try to get something out of the job for me as I felt so disconnected from the work.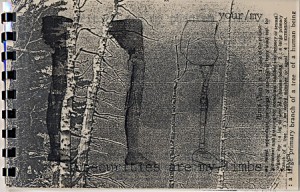 So my book about "limbs" is really trying to figure out how to piece myself back together in a way — using overlapping images and text.
Since I didn't know what I was doing, I was using Xeroxes, a glue stick, and an Exacto blade. I laid out the pages so I could get two pages on an 8 1/2 x 11 inch page when I copied them, and then just cut the page in 1/2 to get the two pages.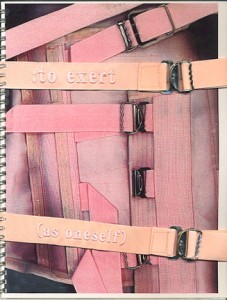 The next piece, To Exert…as oneself, takes that idea further using black & white and color in the images — and the buckle straps that hold the book together were actually made by the man, Alfred Chin, who had made my Milwaukee Brace back in the 1970's. It was very special for me to be able to find him again and involve him in my art work.
OK, not to continually crush-on the talent — but how cool is it that she got back in-touch with the guy who made her (probably-hated) back brace to have him make hinges for her artwork?!  I'm totally crushing on Tamar Stone; there's more to come! While you're waiting for the next installment, check out Tamar's website and what's for sale.