Few things excite me this much. Few contemporary things, that is. But I'm all giddy about a book that's just been released: Busted! The FabFoundations Guide To Bras That Fit, Flatter and Feel Fantastic by Ali Cudby.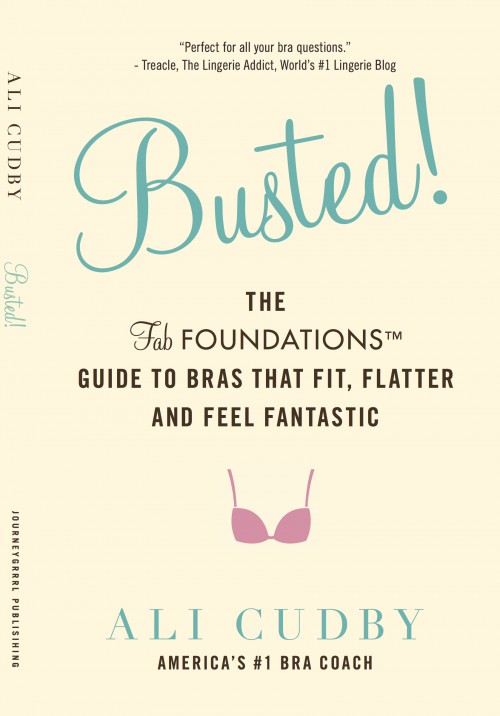 Ali Cudby is American's #1 Bra Coach, the founder of Fab Foundations™ — and one hell of a great woman with a mission I adore. I was introduced to her by my friend and lingerie blogger, A Slip Of A Girl — who is, by the way, currently running a contest where you can win one of five copies of the book signed by the author. Go ahead; go enter the contest now. I'll wait.
When Slip told me there was a book which could actually assist me in finding a bra — or even several bras! — which would fit while looking good and feeling super, I was skeptical. It seemed like the cosmetic ad promises: hope in a jar; hope between the covers. But quickly I found that Cudby's book was more than hope and promises — it was a plan that works!
It was then that I became smitten with Ali Cudby, starting a dialog which was so long and insightful, that I'm breaking up the interview into two parts.  We begin with the personal…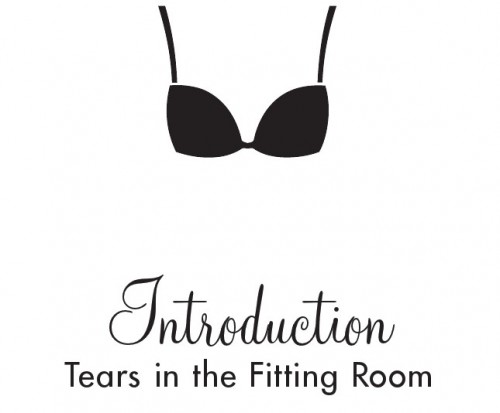 Ali, your story, like mine, begins with the problems of big busted women — but that's not the only women who have difficulty. Were you surprised — horrified? — that smaller-busted women also suffered from the insanity?
In the very beginning, I started with the idea of covering only full-busted women in the book – it never occurred to me that petite women had similar issues. I was shocked when I started hearing the stories from smaller-busted women. We all deserve to feel beautiful, and when you're told to shop in the children's department, or told you don't even need a bra, it makes petite women feel like they don't even count among the ranks of women. That's a huge barrier to feeling feminine, so it makes sense that this book is for everybody…and every body!
There are 16 questions in the Personal Assessment at the end of Chapter One — I'm too embarrassed to admit how many of them I had the positive-sounding, but negative-in-reality, response of "Yes." (In fact, I found myself starting with an emotional "Yes! She gets me — this must be common!" but after so many, my ego deflated…) How many of the 16 problem symptoms do you think the average woman has?
Great question! The intent of the Personal Assessment is certainly not to make your ego deflate — sorry! — but hopefully to help you realize that all of these issues will be addressed in the book. They are common!
I would say that the majority of women I fit (if they're being honest) would be answering "yes" to at least 10 of the 16 questions, and oftentimes more like 13-14. The idea of the Personal Assessment in the beginning is to make it clear that there's an issue (guess I did that!) and have the book guide you through turning all of those issues around by the final FabFit Assessment at the end of the book.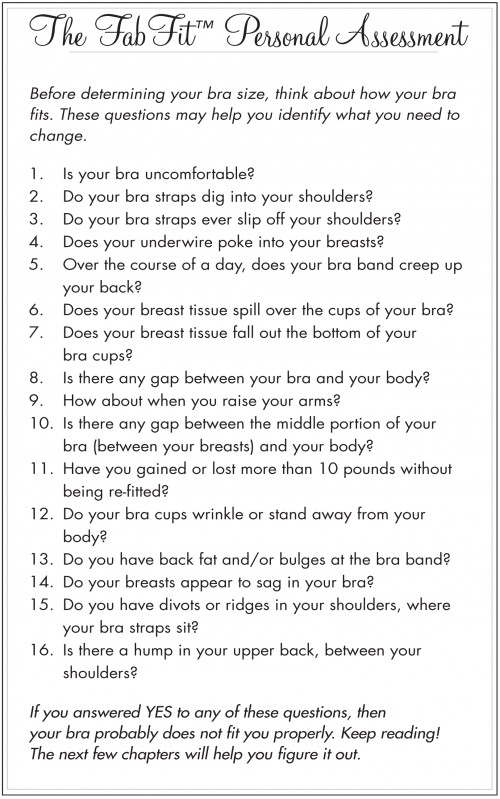 Obviously, the best way for a woman to get a bra that really fits, is to go into a store and try them on. But what about the times where literally, you cannot find a store with bras larger than 38DD — and those are, in fact, too small? (Yes, this is personal experience! Every clerk I asked about the possibility of bras in larger sizes, of hidden stock consisting of the less-flattering-on-display bra sizes, was shocked — as if I belonged in a circus!)
Are we really forced to order a bunch of guessed sizes in several bra styles and brands, have them shipped to us? I mean even if these places have easy return/exchange policies, this wreaks havoc with a lady's finances! How do we at least narrow down such a big search so that we have less up front (so to speak!) investment in bras?
Hearing your story makes my blood boil! Too many women are made to feel like THEY are the problem and it's absolutely NOT TRUE! The good news is that there are great (and gorgeous) bras out there, in a variety of price points and in sizes that range from 28AAA all the way to 56N!
In the book, I go through specific steps to help make Internet shopping work for you. That should cut down on both the confusion and the outlay of cash.
I also have a secret website only for people who buy the book, and not only is there great information on the site, but there are exclusive coupons as well. And I'm in conversation for contests and other goodies for the page. Heck, the book practically pays for itself! :)
In your book, you talk about the prices of bras. While you are clear to say that you don't have to buy the most expensive bras, there is some truth in getting what you pay for as well… What's a respectable, reasonable, price to pay for a decent bra? What's the average lifespan of any bra? A properly fitting bra?
I think there's a balancing act when it comes to price. Some of the most expensive bras out there are pieces of art, but not designed with fit in mind. Then there are very expensive bras that are absolutely amazing for fit, and are made from the finest materials, have incredible hand-stitched embroidery, lace, etc. You absolutely get what you pay for! But do you need to spend that kind of coin to get a bra that will fit properly? No, you don't.
You are asking a bra to do a job, and for some of us, it's a big job. You want a quality bra that will last without stretching out or falling apart.
Unfortunately, you can't depend on price as a good indicator of quality, and that's why I break down the quality indicators of a bra in the book — from construction to embellishments — to help you get the most bang for your buck.
How you take care of your bras will also have a HUGE impact on how long they last. There are a lot of numbers thrown around the industry for the lifespan of a bra, but I say it should last around 6 months of wearings, or until it's no longer doing the job of supporting your bust.
[Breaking down the price of "expensive" to the ridiculous… Ladies, if you buy a $70 bra, that's like $11 a month. If you even wear that bra 10 times, that's just over a dollar a day.  Remember those old "less than the cost of a cup of coffee" commercials, designed to make you weak with the need to help a stranger? Why aren't you moved to help yourself first? Tsk Tsk Tsk Charity begins at home! In this economy, can you afford to waste money on disposable cheap bras each month?]
Aside from the obvious changes in our bodies, such as weight changes, pregnancy, etc., how often should a woman go through the bra assessment? What are the average number of times a woman's body changes enough to warrant a bra check?

You should reassess your fit every six months, plus any time your body undergoes a weight fluctuation of 5 or more pounds. Let's say you get this book when you're 20. If you use the information you learn to buy bras, you're looking at 50+ years of bra purchasing. That's around 100 times that you need to reassess your fit. And you need more than one bra, so figure you have at least 3-5 bras at any one time (the barest of minimums, including sports bras.) That's a lot of bras over a lifetime! I think every woman deserves to look and feel amazing, and shouldn't waste money on bras that don't work for her body. (How many ill-fitting bras are collecting dust in your lingerie drawer?)
You know the old adage that you give someone fish and they eat for a day, or you teach someone to fish and they eat for a lifetime? Well, this book is all about teaching women to fish, so to speak. :) That's why I call myself a bra coach – because I want all women to learn how to understand fit for their unique bodies, for the rest of their lives.
[That means, ladies, that Busted! is a book that pays for itself — and quickly. That's even before you get to the secret goodies stashed on Ali's site. Get this book before you even get the aforementioned quality bra and that bra will fit!]
This interview is "To Be Continued" — meanwhile, get yourself a copy of the book. Order it; enter to win it. Then come back tomorrow for the rest!