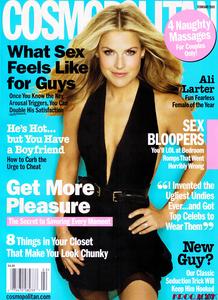 Gawd I hate Cosmo. It's like they simply cannot fathom that we see they've been running the same articles over & over again since Helen Gurley Brown became editor-in-chief in 1965, and began using the mag as an extension of 1962's Sex and the Single Girl.
Don't get me wrong, Sex & the Single Girl was wildly wonderful for the time (and holds up much better than you might think); but it was one book in 1962 and if we're supposed to have come a long way, baby, then why the hell are we operating off a 1962 manual?
Plus, you can only recycle so much.
Even if you think, "There's new chicks aging into woman's mags every year," you have to accept the fact that they know — or should frickin' know — that old news is not only old news but hurtful and dangerously inaccurate.
Thirteen Examples Why I Hate Cosmo
(All from the February, 2009, issue.)
1 On page 50, In The Best Times To Impress Him, under "When his buddy gets dumped," the advice reads as follows:
If your female friend suffers a breakup, you bring over Sex and the City DVDs and talk about how she "feels." If your guy's male friend gets the ax, however, he has only one job: to help the dude get laid. So give your man the green light to spend more time than usual acting as a wingman when out with the boys.
Ugh. So A), couples only have same-sex friends, they are B) stereotypes. (My friends and I — male and female — have a strict code that should any of us own &/or view Sex & the City, we are to drive them to the closest impatient care facility & destroy the DVDs.) And C) pimping is good for your relationship, so to hell with the scars on either "your guy's male friend" or his sexual conquests.
2 Page 54, "How I got him to…" is an ode to man-ipulation. It starts with the "men are easily distracted like babies" — so change his cell phone ring to his favorite tune to keep him from answering it (hey, he'll like listening to the small clip repeated so much that he'll totally ignore a call from work, his mom… maybe even you). And then ends with stuff you already should know how to do, like if he says it's natural to flirt with other women so you're free to do the same, feel free to do it. (We know it may not make him get jealous and stop like "Chloe" wanted; but hell, neither of you are dead; so why the hell not flirt? Flirting is not picking-up or cheating.)
3 page 67: Beauty News. It's not "ads" but the usual editorial serving as ads; and even worse, it's stupid.
When you pull off your tights, a cloud of dust pops up. Cold temps plus indoor heat zap moisture. Switch to a hydrating body wash, like Caress Glowing Touch, $3.50.
4 Page 74: Beauty Q & A:
Q: When I wear heavy fabrics, I sweat a lot. What can I do to prevent it?

A: "Layer a cotton tee under a sweater — the natural fibers absorb moisture," says NYC derm Doris Day. Also try a stronger sweat blocker, like Secret Clinical Strength Anti-Perspirant, $7.99.
'Cuz A) believing the "derm" wouldn't sell Secret ad space and B) asking why she wears sweaters in the first place is out of the question… Because "Q" is a made-up question from struggling editors.
5 Fun Fearless Males 2009, page 83. Heavens, if they are so fun & fearless — and celebrities — why don't I already know about them? And why would I care? It's not like I'm so deluded to think that my discovery of them (should I even agree with their sales pitch selections) makes me frickin' eligible to date them.
6 Page 98: What Sex Feels Like for Him. Yeah, we can count on Cosmo to tell us how our man feels about us & with us; so there's no need, should we A) actually be curious or B) not already have him telling us what he wants and why, to actually ask our real, not pseudo-Cosmo-guy, ourselves.
7 Page 103 starts 50 Guy Phrases Translated, in which Cosmo rapes other written works, distilling them to hysterical uselessness. Cracking the male "cryptic code" includes translating, "Can we talk about this later," to, "I never want to talk about this again."
Gee, really?
I suppose next you'll tell me that when he says "We should go out sometime," that he's just afraid to really ask me out… And "You look hot" means he wants to have sex. Oh wait, that's #2 & # 29.
8 We are not to be "alarmed" by our "freaky sex dreams, we are soothed (starting on page106)." Sex with the ex, girl-on-girl action, and dreams of sex without condom use aren't what we fear think they are — nope, they aren't even hot dreams we should just enjoy.
Cosmo, you're worse than a wet blanket; at least then I'd have a wet spot & be damn happy for it.
9 In Love & Lust (apparently a regular feature) the Cosmo skinny is that playing hard to get (but not too hard to get) is phat. Yes, it's 2009 and we believe women don't know that the thrill of the chase is thrilling to both chaser and chasee. I mean, come on; this is the stuff we all miss when we 'settle down' and, if we take each other for granted, end up in divorce court for.
But thanks, Cosmo, for telling the women of today who paid $4.50 for your rag that "texting him your location at all times" is "not hard enough", that waiting to reply to his text a day later with "Who r u?" is "too hard" but that "sending short texts and resisting the urge to engage in volleys" is "just hard enough."
10 On page 112, more of Love & Lust, has the classic, "he lost his class ring in my pussy" story. If you don't know it, ask your dad to tell you a sex joke.
And then work on your freakin' Kegles for gawd's sake.
11 Page 192, in Cosmo Weekend Living, we are advised not to make our rooms too girlie &/or paint our rooms pink because "guys don't feel comfortable in estrogen-heavy rooms."
Yeah, unless our estrogen-heavy bods are naked; then, like they notice — let alone care.
12 Page 52: Cosmo for your guy — "show this to your man!" Two problems here: A) the whole mag is an ode pandering to negative male stereotypes, so if you're going to encourage him, why stop at one page? and B) if your guy needs help to know that whispering "Remember that time on the kitchen floor?" is sexier than whispering "I'm so drunk!" to you, I doubt reading it in print in Cosmo will be of any help — to either of you.
(And then he might just flip through it and start thinking about your pink duvet and why you programmed the ringtone on his phone.)
13 Oh, are we at thirteen already? But there's so much more… OK, I'll give you just one more & then I'll stop. For now. The perfumed ads reek. As if I didn't have a headache already.
PS I didn't buy this copy of Cosmo; I liberated it my sister-in-law from it. And yes, she heard all of this as an oral presentation as I took it.
Get the Thursday Thirteen code here! UPDATE: The original site appears to be down, so please check Thursday-13.com!
The purpose of the meme is to get to know everyone who participates a little bit better every Thursday. Visiting fellow Thirteeners is encouraged! If you participate, leave the link to your Thirteen in others comments. It's easy, and fun! Trackbacks, pings, comment links accepted!