In Emergency Plan = Emotional Pain, Kellie Jo writes, "It's one thing to know you need an emergency plan to escape possible domestic abuse, and another thing entirely to create it." And then she proceeds to describe how her attempts went.
The first failed because it wasn't well thought out enough — in fact, as she states, it was only a plan to get out of the house, get temporary relief, not leave her marriage.
I remember too many of those episodes myself; they're hard to talk about.
The worst was the time I managed to get out of the apartment, shoeless but with my coat, and went to hide behind the small building behind the pool. It had a shoveled path, so there were no footprints for him to follow, and allowed me to remain unseen (by him and anyone else at the complex). On a slight hill, I had a view, just over my shoulder, of anyone approaching — as long as I sat in a giant snow drift. I kept myself warm by swigging from the bottle of vodka I had managed to swipe off the counter on my way out the door. I felt victorious when I saw him stomping out of the apartment, slamming the door behind him, on his way to the parking lot. I remember smugly giggling when he squealed out onto the main road.
But then I knew I'd have to go back; shoeless and tipsy in a snowbank was not how I wanted to be found — or how I wanted to die.
From then on, I was prepared. I kept a cheap paperback novel in one pocket of my old coat, gloves and a hat in the other, and slip-on shoes in the sleeves. I'd escape to the drive-up window area of a bank, read by the light of the (fortunately not-oft used) ATM, feeling vindicated if not protected by the angel that was the bank's overhead camera. If he came and got me, if he attacked, if I disappeared one day, all would be on tape.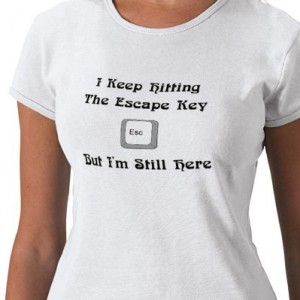 But, like Kellie Jo, this was an escape from immediate danger, a respite plan, not a safety plan to get out of the relationship.
It sounds crazy to those who don't live with abuse or an abuser, but these tricks often save our lives. At least in the short term. And they build our escape muscles.
We not only flee danger, but give ourselves the time and space to think. We think about what we need and create plans when we sit alone in our cars, under the shield of bank cameras, or swigging booze to dull the pain sitting without shoes in snowbanks. Those small successes also are proof that we can get away — and one day, when we get the right plan, we will get away for real.
Image Credits: The Escape Key by schmang.