In Wives Legal Rights, by Richard T. Gallen, a Dell Purse Book, © 1965, marriage is defined as both an emotional relationship and a legal arrangement, "a valid contract between a man and a woman, granting certain rights to each, demanding certain responsibilities of each." It's taken decades for Webster's to catch up on the definition of marriage to include same sex couples (which, as you'll see at that link, is upsetting to co-called conservatives — selfish, intolerant bastards), and the legal definition is even worse. So it shouldn't be surprising that other concepts are having an equally long a culture lag.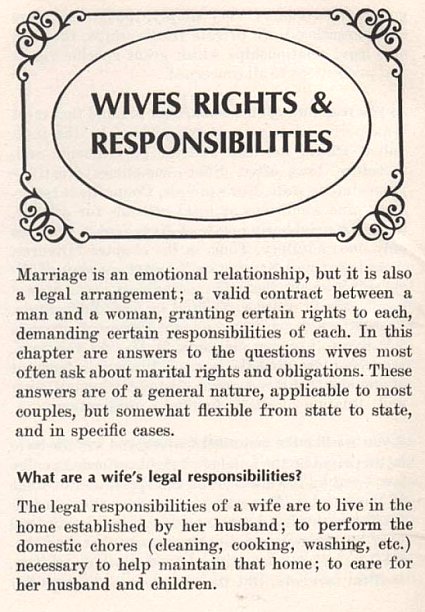 Paging through this retro Dell booklet, it's easy to see that the gender split isn't just regarding who is in a marriage, but what role each gender has within a marriage. Women are legally required to perform domestic chores and to care for husband and children. On the flip-side, men are required to support, protect and maintain wives and children (but nowhere is is listed that husbands are to care for their wives and/or children).

This may not seem very alarming on the surface (to me it's a giant WTF?! moment), but the antiquated way of legally assigning roles in a personal relationship sure is government dictating personal lives. Even if marriage laws are no longer written this way, the cultural lag exists and for many, such shifts in change have not been made, making it more difficult even for those who do believe differently.
It's easy to see where the cultural assumptions of women having the 'home sphere' impacts equal pay for equal work, the pink ghetto from pink collar jobs etc. Women are still not true equals in society because we are not seen as having equal footing and participation, which leads to attitudes & assumptions about women's roles in society and individual marriages.
It's not just the cave men (and their families) who wish to keep women in their (historical) place, but the insidious perceptions off of which people operate — sometimes unaware they hold such notions (or the unhappiness they instill) until they are tested. But once you are married, it is often too late to renegotiate what has already been seen as accepted.
My advice to you is to clearly discuss your expectations about roles in relationships with prospective mates. Be clear about what you and won't do or tolerate — and be equally clear what you expect. Better to leave that old fashioned thinking fish in the pond, than to forever be on the hook.