I'll admit I knew nothing about this retro joke book when I snagged it at an antique shop; all I needed to pick it up was a stork on the front, and the $1 price penciled inside allowed me to bring it home.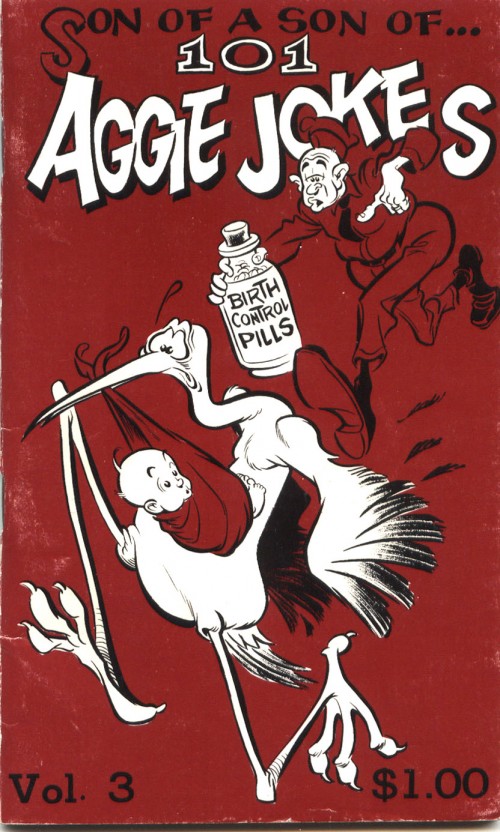 (Son Of A Son Of… 101 Aggie Jokes, Vol. 3, copyright 1969, Gigem Press (my copy is a First Printing, September, 1969) was created to be a postal piece.)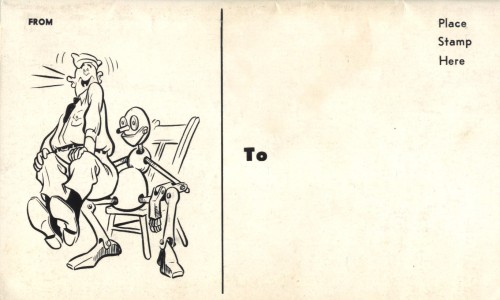 The front cover birth control gag goes like this:
Do you know what Aggies do with birth control pills?

They feed them to storks.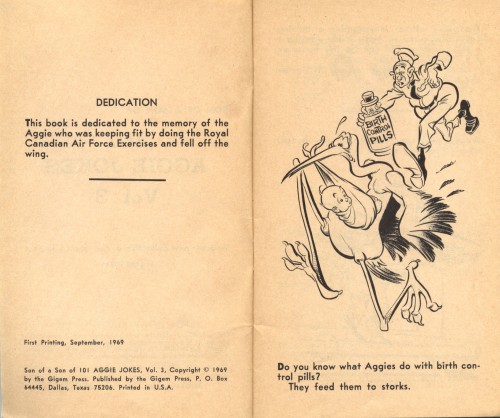 And that should be enough to satisfy a dollar purchase — but I'm obsessive, remember?
First I had to learn what an "Aggie" was or is: students (current and former) at Texas A&M University are called Aggies after the school's agricultural roots. Then Barry Popik had to educate me on what turns out to be a rather fascinating bit of history about these very books:
Aggie jokes became legendary because of two events in 1963 and 1965. In 1963, Texas A&M started to admit women. The University of Texas (already co-ed) and others saw humor in this situation. In 1965, the book 101 Aggie Jokes was published. The book would go through several reprintings and new editions.
And so it seems this little joke book was destined to find its way into my feminism collection. Even if the book isn't all about gender or the sexes, it fits the bill; here's Exhibit B:

Did you hear about the Aggie who thought a sanitary belt was the first drink out of the bottle?
Ba-dum-dum!
I'll couch my estimation of this kitschy book's value with the publishers sentiments on the title page:
This collection of jokes has been assembled from general public sources. It is not the intention of the publishers to ridicule or degrade any institution or individual. The purpose is to chronicle an important chapter in American humor.
To cover my own ass, I'll also include "gender" along with institutions and individuals. *wink*
FYI, the publishers name is based on another Aggie reference, the Gig 'em greeting.